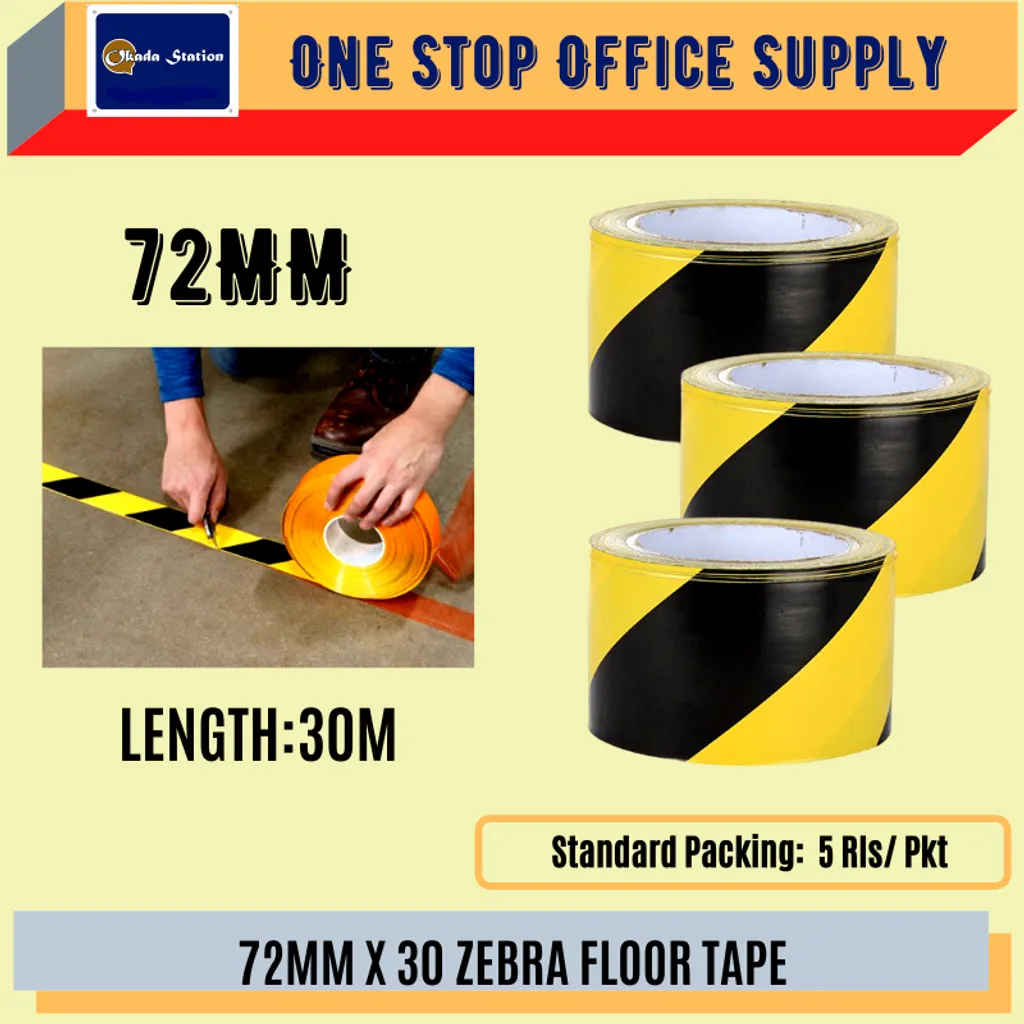 Yellow Black Floor Tape (72MM x 30M) Hazard warning marking social distancing outdoor indoor Pelekat Lantai PVC
SIZE:72MM X 30M (YELOW/BLACK) - STANDARD PACKING=5 ROLLS
Floor marking tape can be used to mark your facility's aisles, walkways, safety hazards, storage areas and more. Floor tape is available in continuous rolls, corner marks (L, T and cross shapes). Floor marking tapes are made of heavy duty polyester or vinyl that resists oil, moisture, solvents and scuffing - and can even withstand forklift traffic. The marking tape will stick to virtually any dry surface when applied.

Features
* Anti-abrasion and excellent tensile strength
* Excellent adhesion and good cohesion strength
* Bright colour and available in solid colour or stripes
* Good thermal insulator and high resistance to solvent, oil, chemical and water

Advantages
* Remove easily without adhesive residue
* Use indoor and outdoor due to good insulation
* Excellent flexibility and good adhesion on uneven shapes and irregular surfaces
* Bright colour or contrasting stripes tend to attract attention and code for safety warning

Usage
* Widely used in facility aisles, equipment storage and wall storage
* Denote the location of fire extinguishers or other fire fighting equipment
* Marking of internal sporting courts such as volleyball court, football court as well as badminton court
* Ideal for general purpose warning and marking such as hazard warning to increase danger awareness


*We Provide TENDER QUOTATION , SPECIAL ORDER for stationery & office furniture. For more information , please chart with us.
Price show are quoted for wholesale & must purchase in standard packing.
Free shipping = purchase above RM 500.00 & above in Negeri Sembilan or distance within 80 KM from Seremban Town.
Others please refer shipping charge in shipping charges table when you checkout cart.
For Bulk Purchase Discount, Please contact Yin Era Enterprise Sdn Bhd. Tel: 06-6777448 or whatsapp 0196606566