MILWAUKEE PACKOUT 5 PIECES FULL STORAGE SYSTEM (48-22-8435,48-22-8430,48-22-8424,48-22,8425,48-22-8426)
Package Includes:
MilwaukeePACKOUT™ Compact Organizer 48-22-8435 x 1
MilwaukeePACKOUT™ Organizer 48-22-8430 x 1
MilwaukeePACKOUT™ Tool Box 48-22-8424 x 1
MilwaukeePACKOUT™ Large Tool Box 48-22-8425 x 1
MilwaukeePACKOUT™ Rolling Tool Box 48-22-8426 x 1
EXTRA FREE MYSTERY GIFT
Features:
Milwaukee Tool revolutionizes tool transportation, organization, and storage for the trades with the new PACKOUT™ Modular Storage System. Designed to provide users with the ability to interchange and interlock a wide assortment of heavy duty tool boxes, organizers, and storage totes in multiple different configurations, PACKOUT™ is the most versatile and durable modular storage system in the industry.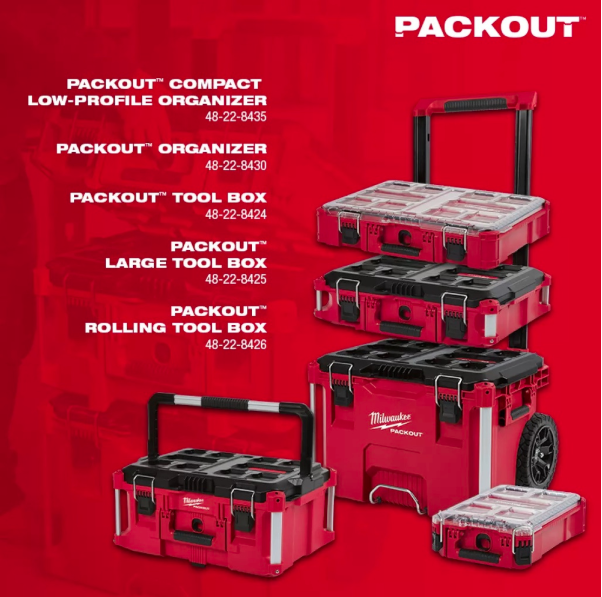 Price show are quoted for wholesale & must purchase in standard packing.
Free shipping = purchase above RM 500.00 & above in Negeri Sembilan or distance within 80 KM from Seremban Town.
Others please refer shipping charge in shipping charges table when you checkout cart.
For Bulk Purchase Discount, Please contact Yin Era Enterprise Sdn Bhd. Tel: 06-6777448 or whatsapp 0196606566