Our PACKOUT™ Large Wall Plate features Quick-Alignment Tabs to make installing rows and columns of multiple wall plates easier. This Large Wall Plate is constructed with Metal Reinforced Mounting Points and impact-resistant polymers that ensure secure mounting in shop, transit, and site environments. Our Large Wall Plate has a 150lbs weight capacity when mounted in the shop, and a 75lbs when mounted in vehicles. As part of the PACKOUT™ Modular Storage System, the PACKOUT™ Large Wall Plate allows you to customize your storage system and keep your storage solutions organized. MILWAUKEE® PACKOUT™ is the industry's most versatile and durable modular storage system.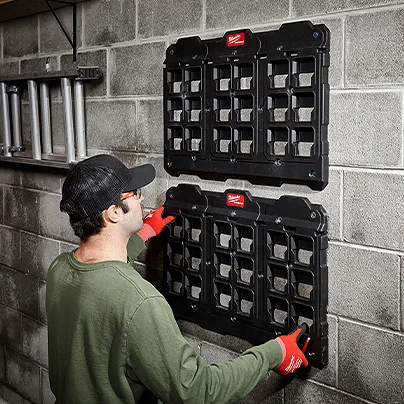 Price show are quoted for wholesale & must purchase in standard packing.
Free shipping = purchase above RM 500.00 & above in Negeri Sembilan or distance within 80 KM from Seremban Town.
Others please refer shipping charge in shipping charges table when you checkout cart.
For Bulk Purchase Discount, Please contact Yin Era Enterprise Sdn Bhd. Tel: 06-6777448 or whatsapp 0196606566