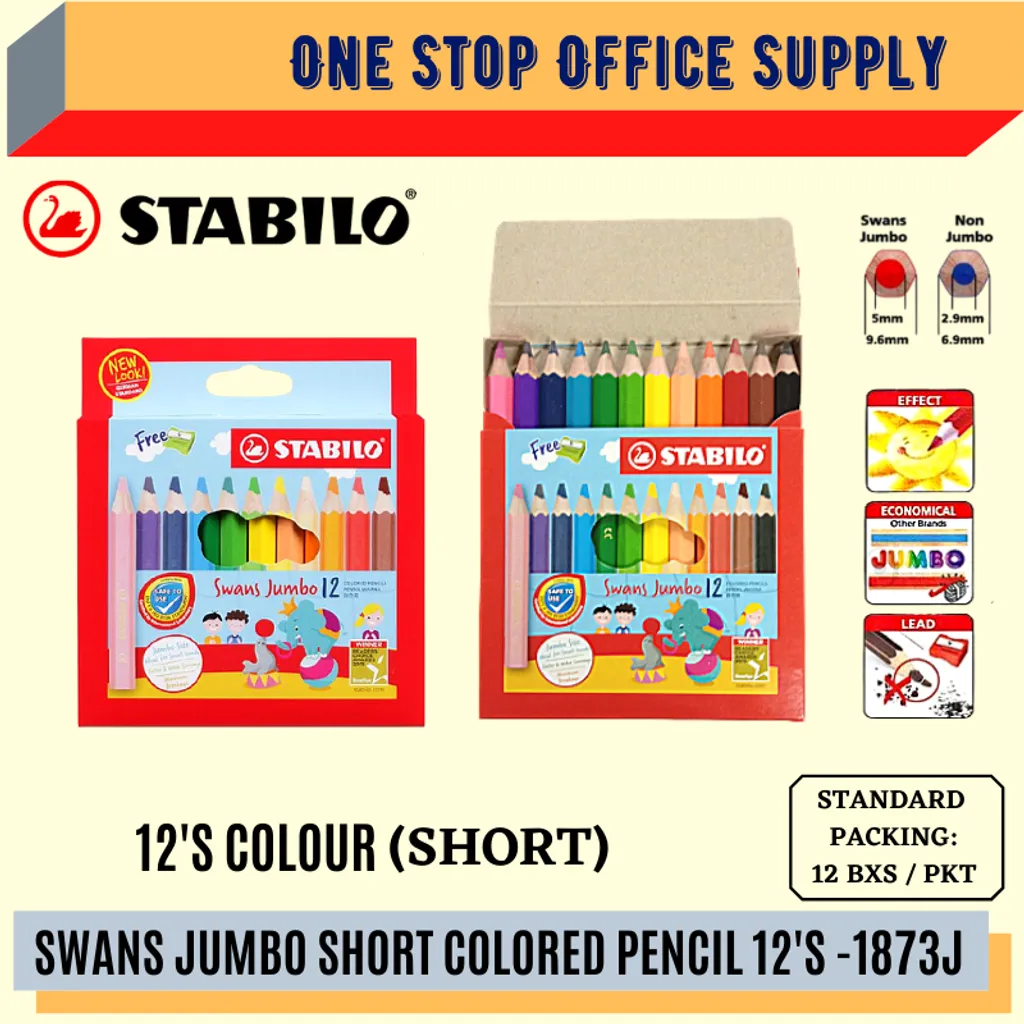 Stabilo Swans Jumbo Color Pencils - Short (12'S) -1873J / Swam Color Pencil / 12 Colour Pencil / Short Color
STABILO JUMBO SHORT COLORED PENCIL 12'S -1873J SWANS JUMBO 12 ART NO:1873J 5MM JUMBO LEAD STANDARD PACKING: 12 BXS / PKT
STABILO JUMBO SHORT COLORED PENCIL 12'S -1873J
STANDARD PACKING:
12 BXS / PKT
SELLING PRICE: RM 9.00
**All price stated is for 1 pcs
Stabilo Swans Jumbo Colored Pencils 12/18/24 colour

Colouring has never been easier for Pre-Schoolers! Jumbo Coloured Pencils are large and easy to grip and the extra thicklead enables easy colouring and resists breakage. Stabilo Jumbo Colored pencil have always be the first of pre-schoolers since its launched. With Free special sharperner in the box, it will bring less hassle for buyers.The colored pencil is economy and affordable by most parent. The target group for this products is 4-8 years old pre-schoolers. Hexagonal shaped with jumbo grip for easy holding.

Highlights:
– 4.2 mm thick lead
– Available in 12 colour (short), 12 colour (long), 18 colour (long) and 24 colour (long)
– Thick lead enables easy colour laydown and minimises breakages
– A secure, jumbo grip provides hours of endless colouring
– Comply with EN71 & ISO 8124 standard
– Free Sharperner
– Ideal for small hands
– Faster & wider coverage

**Product Packaging May Be Different Compare to Photo**
Price show are quoted for wholesale & must purchase in standard packing.
Free shipping = purchase above RM 500.00 & above in Negeri Sembilan or distance within 80 KM from Seremban Town.
Others please refer shipping charge in shipping charges table when you checkout cart.
For Bulk Purchase Discount, Please contact Yin Era Enterprise Sdn Bhd. Tel: 06-6777448 or whatsapp 0196606566